Imagine a scenario where you receive an urgent document through email, and now you have to email it back to the sender back signed. Your first approach might be printing it out, doing your signature, and then emailing it after getting scanned. However, there is a quicker and more efficient way to sign a vital paper without waiting hours.  
This article will walk you through ways to electronically sign your documents – Word or PDF. You will learn how to make your signature on any Word or PDF document easily readable and accessible from any place. You can electronically sign your document through any system, including Windows, Linux, Chrome, Android, iOS, etc.
Make Electronic Signatures, Not Digital
Let's clarify some technical terms first. We will be talking about how to sign a document electronically and not digitally. There is a stark difference between the two terminologies. An electronic signature is a generic term for any sign we generate through electronic platforms. It could be a signature generated digitally or written through an electronic sign generator tool like MyLiveSignature.
Digital signatures are more secure and fall under electronic signatures; however, they follow blockchain mechanisms. A signature done digitally is complex but compliant.
An e-signature is simply a picture of your handwritten signature inserted on any Word or PDF document. It is easy to generate on all applications, and most businesses or individuals would need it to sign an official paper. Send a Word file to the industry in question with an e-signature imprinted is still a new technology for many companies. For others, sending and receiving a document via email rather than printing or scanning it is a wise move.
Quick and Efficient
Electronic signatures are quicker and more efficient with MyLiveSignature. They are legal and can easily convert your paper signature to an electronic format. This practice, in turn, boosts up the manual paper signature procedure. E-signatures are generated on an online platform and added to virtual documents. You save the time and energy to make signatures physically and get images of your signature. The whole signature mechanism is carried out online.

What's the need for an e-Signature?
Getting documents signed electronically is less time-consuming and saves paper usage. This way, you can contribute towards an eco-friendly environment. Electronically signed copies are convenient to use anywhere, regardless of machines. 
MyLiveSignature can assist you: 
Speed up workflows

Carry out transactions safely

Remove paper-driven signatures
Sustainable MyLiveSignature saves you a lot of time and logistics costs, including paper, output devices, and postal.
How can I use MyLiveSignature in Business?
Use the first-ever free signature generator tool to sign:
New employee documentation

Invoice Management

Vendor approvals

Sales agreements

New hiring contracts

NDAs
Is electronic signature legit?
Yes, e-signature is legally authorized, and numerous businesses have adopted it in their operations. It is also easily adaptable for personal transactions from anywhere in the world. Now you do not need to think twice about signing your official papers.
You can use electronic signatures to sign any kind of document of any length. It could be:
Financial Copies

Sales agreements

New hiring offer letter

Mortgage/rental contracts

Liability documents
How to Add Signature in a Word Document
?
This easy step-by-step guide will help you add your signature to a Word document:
Use a scanner to scan your signature and upload it on your PC.

Then use drag-and-drop to move your signature to the Word document. Or go to, Insert > Image > Upload from Computer. Search for the image file and add it to Word.
Note: If you want to crop the scanned sign or readjust its size, you can take help from your local picture uploader.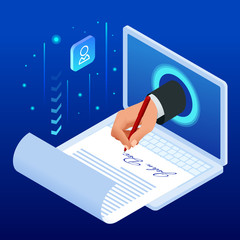 How to Add a Line below your Signature?
Typically, you receive documents with a line drawn to sign them. This way receiver knows where exactly he has to sign the paper. If you want to keep a line for signature in your document instead of inserting an e-signature, then you can follow these steps:
Open the Word file

Go to Insert > Signature Line

Go to Microsoft Office Signature Line

As the Signature Setup box pops up, you can add a name and a title as well

Once you click OK, the signature line will show in your document
How to add a signature from PDF to Word?
One should never share a Word document for security concerns as the information could be edited and misused. This activity is a privacy issue for both the recipient and the sender.
The effective way to sign an online document is via a PDF file. You can avail yourself of many online tools to sign PDF copies electronically and ensure that your paper is safe and free from copying or editing risks. MyLiveSignature has a feature to create your signature through our online tools and generate a signed document. Here are the steps below:
Click 'Save as' on your Word document to save it as a PDF. You can use any free tool online for the same purpose.

Open our electronic signature tool.

Go to 'Place Signature' to generate your signature. You can simply do it by importing your scanned sign through the 'Upload' button.

Go to 'Place Signature' and position the signature where you want to sign it. You can also edit the signature size, font style, slope angle, and color as per your preference.

If you want to request a signature, go to 'Ask Others to Sign.' This option will send the file to the recipient. Lastly, click 'Apply' to add the signature to the Word file (in PDF form).

Your file is ready to download.
Step-By-Step Signature Generator Tool
MyLiveSignature offers you a complete step-by-step signature-making tool. The output (.png or .gif files) is a static and animated signature image—the best signature generator tool in the market for your signature needs.
Click Go! to access the create a signature page.

Step 1:

Type your name into the signature maker box. As you type in, the sign-making process will begin. You can only type letters and spaces.

Step 2:

Click 'Next Step>' to select the font style for your signature using the buttons. Go through the different font styles to pick the one you like.

Step 3:

Click 'Next Step>'

to select the signature size Using the buttons. Pick the right size for your new signature.

Step 4:

Choose the signature slope (angle)

.

You can adjust the proper slope or angle for your new signature using the given options.

Step 5:

Pick the signature colors.

You will find options to choose the right color and the background color for your new signature.
You wouldn't want to lose your signature, right? Download or save your sign without worrying about your data security.
4 MyLiveSignature Advanced Tools
Apart from the simple step-by-step guide to generating your signature, MyLiveSignature offers many other tools to create electronic signatures. We have briefly described them below:
1. Draw a Signature
Did you know you can create your e-signature? Yes, it's simple and hassle-free when you have to sign a document electronically. Use your finger, pen, mouse, tablet, touchscreen, etc., to draw your signature online (output is: .png – signature image file).
2. Type a Signature
Alternatively, you can type your signature. Several font styles and sizes are available; you just have to pick one and go ahead. Use your keyboard to type your signature and see how your electronic signature (output is: .png – signature image file).
3. Email Signature Generator
Email signatures are crucial and leave a professional impact on your official documents. Create your professional email signature with banners, links, and photos (output is: .html file). The email signature-making tool will serve the purpose well next time you have to return a signed document.
4. Upload a Signature
Another way to sign a paper is by uploading a picture of your signature. Use a photo of your signature, and we will try to clean it up automatically for you (output: .svg file). It gives a sophisticated yet professional touch to your documents. 
Create a Safe & Reliable Electronic Signature
Generate your e-Signature
With MyLiveSignature advanced features, you can draw your signature online. Otherwise, you can simply upload a picture of your signature by using your system's camera. Make sure to scan it first!
Signing has never been more effortless!
MyLiveSignature is the first-ever best free tool for making electronic signatures. Upload your signature image, create its online version and sign the document within a few minutes. Your crucial documents shouldn't wait for long signing queues.
Safe Online Signature Method
With MyLiveSignature, we make sure your online signature is safe and compliant. Your privacy and data security are important to us. We keep your privacy intact! Signatures that are not saved into your account get deleted once a day. We do not retain these previews and signatures, so your data is secure.
Works on All Operating Systems
The MyLiveSignature generator tool is compatible with all internet browsers and works on Windows, Mac, or Linux systems. You can work seamlessly without worrying about OS compatibility by using an online signature-generating tool. Simply pick out your MacBook or tablet and try out different types of signature generating tools.
Cloud-Based Electronic Signing
All the signing mechanisms are carried out on our servers and do not clear any valuable assets on your system. You do not need to install any app or software. It's secure, quick, and hassle-free!
Why Use MyLiveSignature for Online Document Signing
The fast-paced digitization and internet dependency in all fields demand a faster method for signatures. Thousands of people require online signatures for their essential legal or official documents. People use e-documents like offer letters, contract papers, and NDAs. Besides, companies are now switching towards sustainable modes of business and reducing paper use. In such a case, MyLiveSignature is your best pick.
e-Signature with MyLiveSignature
There is no installation required when you're using MyLiveSignature for signing documents. This tool allows you generate your signature within minutes without losing resources on your system. Our efficient signature generator tool offers many features, including
draw a signature

using your finger, pen, mouse, tablet, touchscreen, etc

type a signature

u

sing your keyboard

email signature generator

to make professional email signatures with banners, links, and photos

upload a signature

using an image of your signature
Is it Secure to Sign Documents Electronically?
Our tool creates most of the signatures on your machine. We are not exposed, nor can anyone else see what you made. At MyLiveSignature, your privacy, including your documents, is crucial to us. We make sure you have a safe time creating your signature by any methods we discussed in this article.
Now you have learned how to sign your documents electronically, register for a MyLiveSignature account, and get personalized signatures for your business platforms. Securely create, download, and save unlimited signatures.